Medical Robotics Challenge for Contagious Disease 2020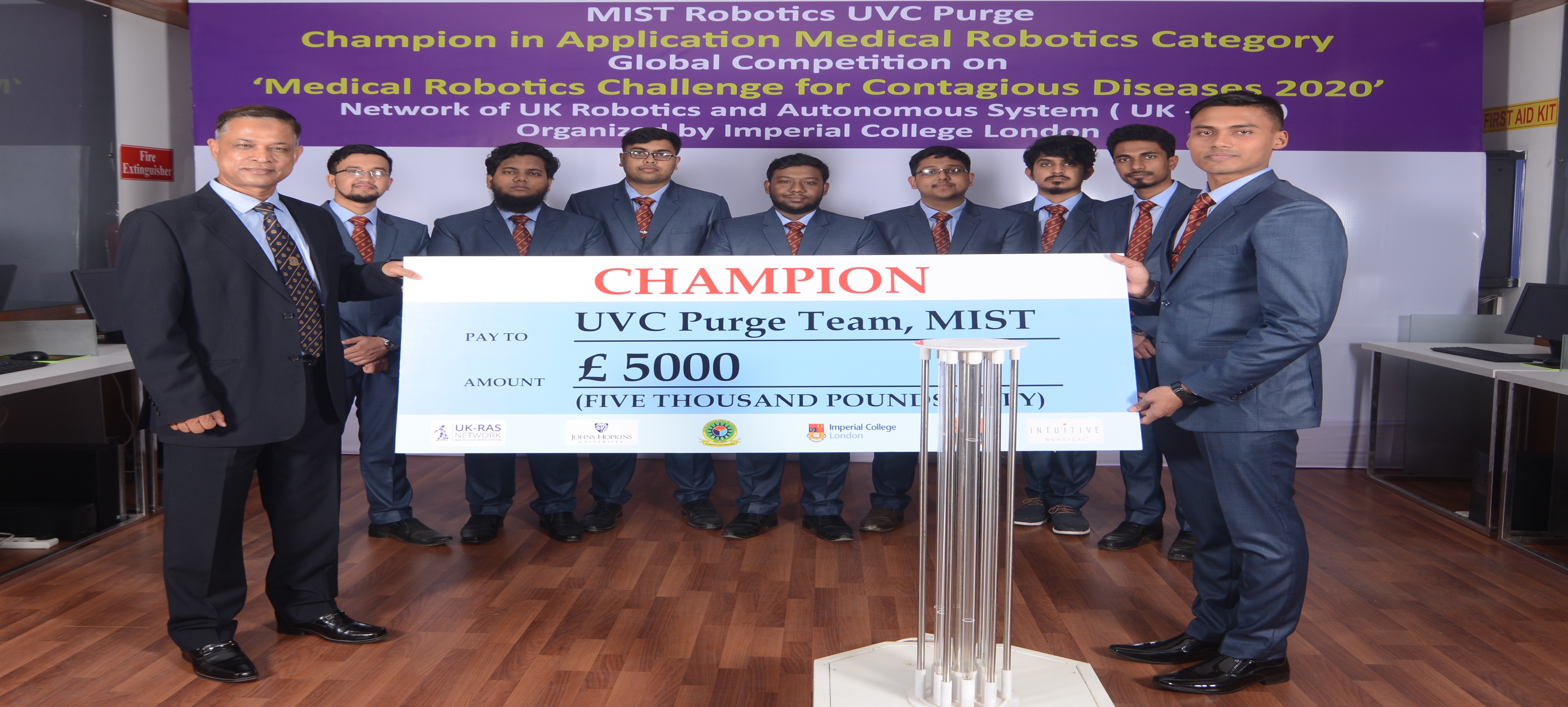 First-ever in Bangladesh, students of Military Institute of Science and Technology (MIST) have developed a semi-autonomous UVC disinfection robot named 'UVC-PURGE' in an effort to fight against COVID-19 pandemic. Team MIST participated in the Medical Robotics Challenge for Contagious Disease 2020 organized by UK Robotics & Autonomous Systems (UK-RAS) Network. Six prizes were promised to be awarded in Application, Design and Innovation category. Among all the finalists, Team MIST raised the Flag of Bangladesh securing the Championship in Application category. The other two Champion teams are John's Hopkins University (USA) in Innovation and Leeds University (UK) in Design category. As a sign of recognition Team MIST 'UVC-PURGE' received £5,000 GBP as a Prize-Money and grant for their research. The Judging panel was from John's Hopkins University (USA), Imperial College London (UK), Intuitive Surgical (USA) and KUKA Deutschland GmbH (Germany).
UVC-PURGE is very robust, compact and user friendly in nature. This robot has been equipped with six T5 UVC (254 nm) lamp to destroy SARS-CoV-2 virus (corona virus) effectively in a standard 12' x 16' room with a disinfection time of 2-3 minutes. The Robot provides real-time camera feedback for better navigation. While disinfecting this semi-autonomous robot is capable enough to avoid any obstacles in that room. Being fully wireless controlled by a mobile app or computer, UVC- PURGE is very user-friendly with a 1600 square feet coverage area and provides a battery backup of 2 hours. It is applicable for any indoor environment such as Empty COVID patient ward, Empty ICU, Operation Theatre, Office room, Classroom, Corridor, Personal Apartment, etc. At a market price of less than 800$ UVC-PURGE is extremely cost-effective than similar types of disinfection robots all over the world. This robot will not only effectively fight against the current pandemic but also will be an effective disinfection tool for medical installments in the post-covid world.

Chief Patron of this project was Maj Gen Md Wahid-Uz-Zaman, ndc, aowc, psc, te, the visionary commandant of Military Institute of Science & Technology. The development team was led by Capt Akib Zaman (4th Year, CSE). Team members were Shoeb Ahmed Tanjim (3rd Year, CSE), Shafayetul Islam (3rd Year, CSE), Shah Md Ahasan Siddique (3rd Year, ME), Nafiz Imtiaz Khan (4th Year, CSE), Md Shadman Adeeb (4th Year, CSE), Riasat Haque (2nd Year, CSE), Md Rashid Ul Islam (1st Year, CSE) and M Rayhan Ferdous Faisal (1st Year, CSE).

The Development team has also expressed profound gratitude to Brig Gen Mohammad Sajjad Hossain (Ex Head of the Department), Brig Gen A B M Humayun Kabir (Head of the Department), Col Sidharth Malik (Senior Instructor), and Col Shahjahan Majib (Senior Instructor) from Department of Computer Science & Engineering for their constructive recommendation, professional guidance and whole-hearted supervision. Overall, the development team is indebted to the technical support of Computer Science & Engineering (CSE) Department throughout the project. The development team is eager and determined to work in more projects related with robotics in near future.