Received Champion award (R&D Category) at the BASIS National ICT Awards-2022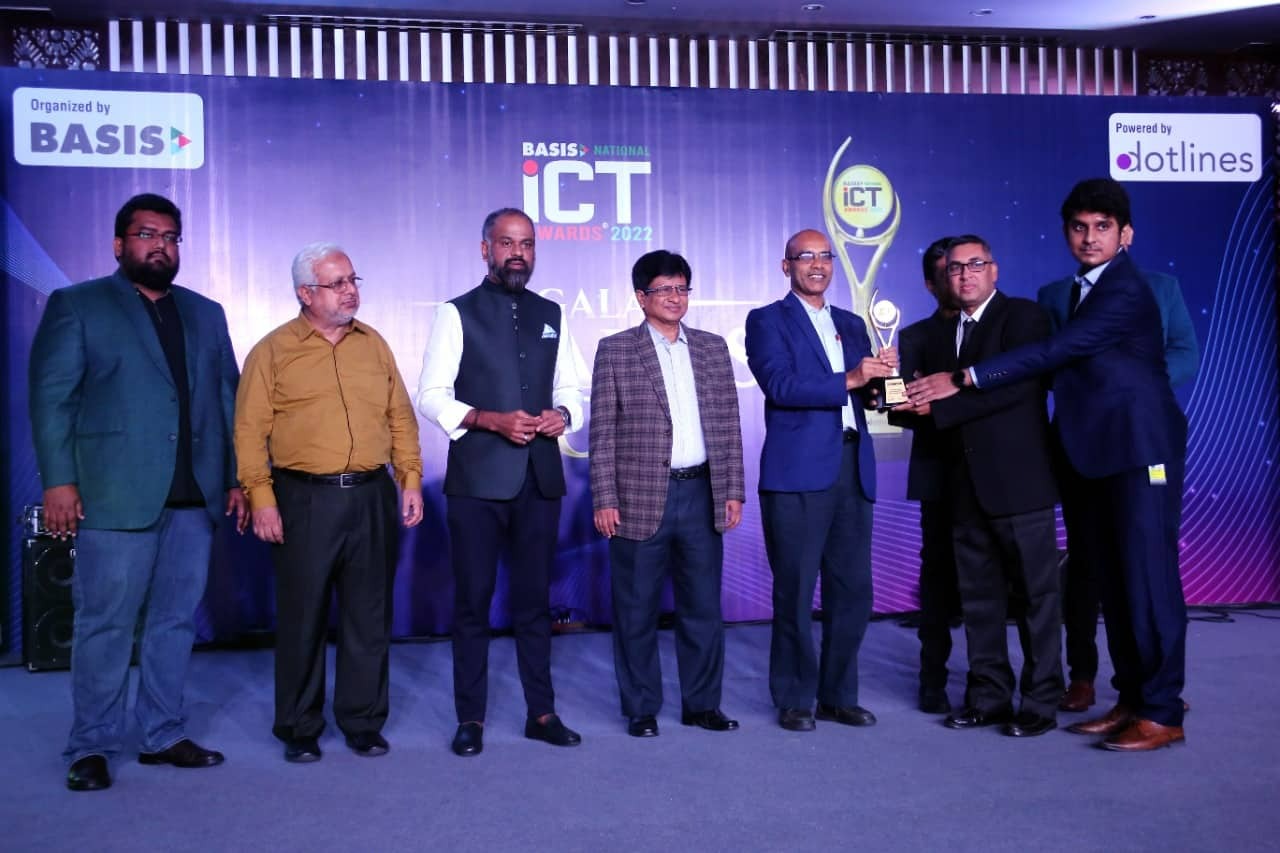 A team of enthusiastic researchers lead by Lt Col Muhammad Nazrul Islam, PhD, Sigs from the CSE department ofMIST, took part in the BASIS National ICT Awards 2022 with their project "Nose-Teeth based Interaction with Mobile Devices for Disable Users". After successfully traversing two phases of the judging system, among the initially submitted 451 projects from different industries and institutions around the country, this project became the champion in the Research and Development category of the competition. The team received Champion trophy and a certificate at the BASIS National ICT Awards-2022 Gala Night held at Radisson Blue Water Garden, Dhaka on 31 October 2022.
The Bangladesh Association of Software and Information Services (BASIS) organized this BASIS National ICT Awards 2022 event primarily to honor individuals, students, businesspeople, SMEs, and organizations around the country for their exceptional accomplishments. This yearly Awards program also offers individuals and businesses the opportunity and the perfect setting to receive local, regional, and global visibility through ongoing promotional efforts and participation in the international Asia Pacific ICT Alliance Awards (APICTA Awards). As such, the champion team from MISTmay have further opportunity to represent Bangladesh at the upcoming annual International APICTA Awards.
The goal of this research project was to make smartphones and all of their features accessible to the disable people who are unable to use their hands. Even though similar studies concentrating on these different types of interaction in addition to the conventional (e.g., mouse, keyboard, and touch based) interaction have been done previously, the majority of those studies were focused on using the computer devices only. Furthermore, our nose-teeth based interaction system were subsequently explored to help disable and immobile persons to interact with their surroundings in hospital cabins.This research project has also resulted in two publications in Q1 journals. An article titled "Developing a Novel Hands-Free Interaction Technique Based on Nose and Teeth Movements for Using Mobile Devices" has been published in IEEE Access (IF:3.367) and the article titled "A deep learning based multimodal interaction system for bed ridden and immobile hospital admitted patients: design, development and evaluation" in BMC Health Services (IF:3.647).
The research team consisted of five other members from the CSE department including Md Shadman Aadeeb, Rafiur Rahman Khan, Mahadi Hassan Munna, Mahmud Sarwar and Shamima Nasrin. The Respected Commandant of MIST, Maj Gen Md Wahid-Uz-Zaman, BSP, ndc, aowc, psc, te and Head of the department of CSE, Brig Gen Md Abdur Razzak, SUP, psc provided their constant support and patronized to pursue this innovative work and to achieve this highly prestigious national award.