WEBINAR ON "SPACE STUDIES AND RESEARCH IN BANGLADESH"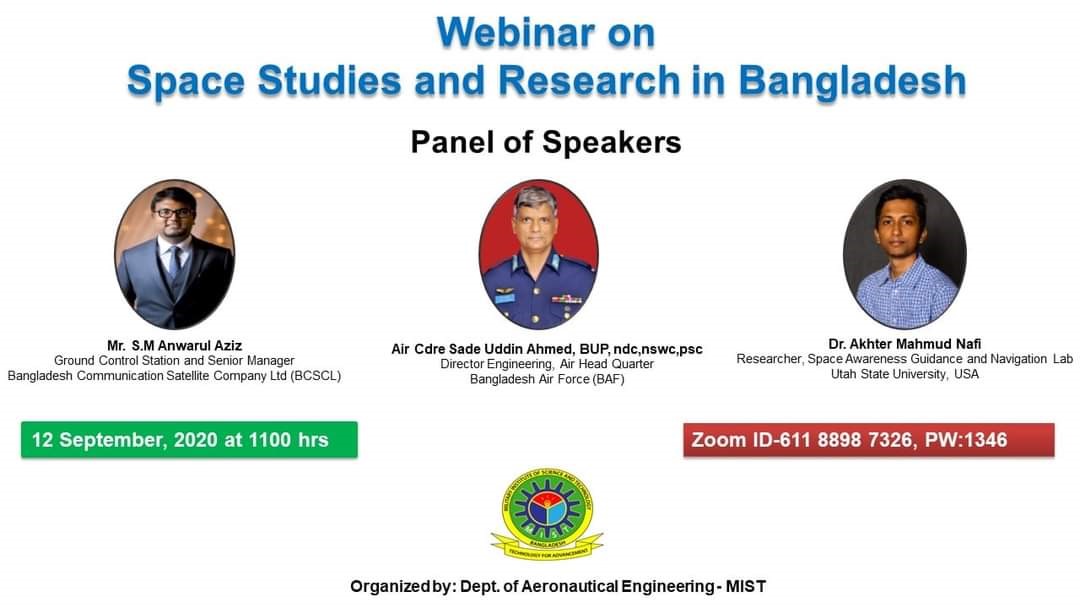 Department of Aeronautical Engineering, MIST successfully arranged a Webinar on "Space studies and research in Bangladesh". The program was conducted live over Zoom on 12 Sep 20 from 1100-1300 Hrs. The Aim of the Webinar was to Share Knowledge and Stimulate Research on Space Engineering among Faculties, Industry Professionals and Students.
The Webinar was chaired by Air Cdre Md. Abdus Salam, BPP, psc Head of AE Dept. MIST.
Distinguished Speakers from both Civil and Military Aerospace specialization delivered their valuable Speeches. The panel of speakers comprised of Air Cdre Sade Uddin Ahmed-Director Engineering, Bangladesh Air Force (Design and Development of Nano Satellites for Bangladesh), Mr. S.M Anwarul Aziz-Senior Manager, Bangladesh Satellite Company Ltd (BSCL) (Benefits of Studying Space Engineering and Space Craft System in Bangladesh) and Dr. Akhter Mahmud Nafi-Researcher, Utah State University, USA (Scope of research and higher studies on space engineering in USA).
About 150 members joined the Webinar including officers from Bangladesh Air force and other faculty members and students from MIST. After the speeches, a Question Answer session was conducted where the audience showed lively participation and interacted live with the speakers.
Finally, the Webinar was moderated and concluded by Gp Capt Md Mahbubul Alam – Senior Instructor AE Dept. MIST.
AE Dept - MIST is hopeful that through this webinar and similar future initiatives, strong Industry and Academia collaboration will be developed, enabling Space Engineering Industry of Bangladesh to flourish and reach newer heights.